When I was a child of age 4 to 5, a family friend from Japan gave me a small plastic traveling weaving loom.
It was one of my prized objects that occupied my days as an only child.
Copy my mother's ways, who would design and skillfully sew our clothes – I would weave simple fabrics that I would later sew them up as clothes for my Barbie dolls, haha!
And as I a teenager, I would always yearn for a "real" weaving loom (AND a real telescope) but found out that it was too costly to have it shipped from UK to Singapore back in the 80′s.
Forgotten and only to be revived when I chanced upon Masonke – it definitely made me sit in front of my display appreciating the rich deep tones, how they were beautifully matched together, the detailed textures created with the use of different materials in one piece.
I was awed by her creative work, the creative thought process behind each piece and ultimately manifesting beautiful pieces of work to heighten our daily styling and accent our homes.
Come sit for awhile, over your cup of coffee with Karen of Masonke!
❤
JR: Describe yourself in under 50 words!
Karen: I'm a artist, a perfectionist, very patient person, a minimalist (much to my son's dismay; he is a complete and total pack rat), and I feel at my best when creating something.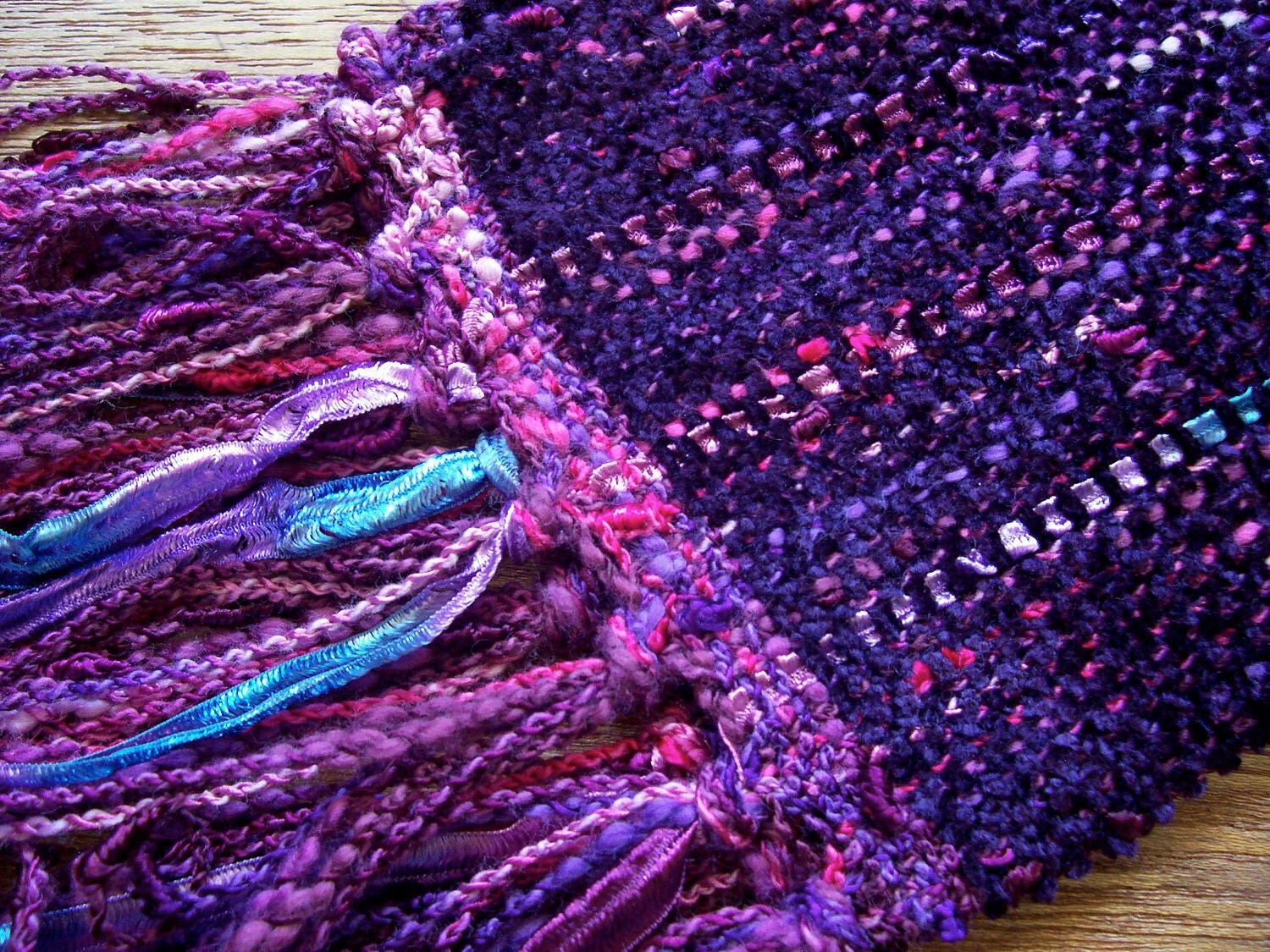 ~ love the colors! mixed plum, pink, and magenta background of cotton/rayon, ribbons and a silky soft blackberry rayon chenille ~
JR: You were born a creative person, and acquired a degree in the fine arts – how did you stumble upon the art of handweaving?
Karen: I actually minored in fibers at school, and did quite a bit of weaving. In the beginning warping (threading) up the loom was a complete and total nightmare, but I eventually got hooked on it. At the time I was "supposed" to pursue a career in graphic design, so I didn't take weaving very seriously, but deep down inside I always knew I wanted to come to back to it.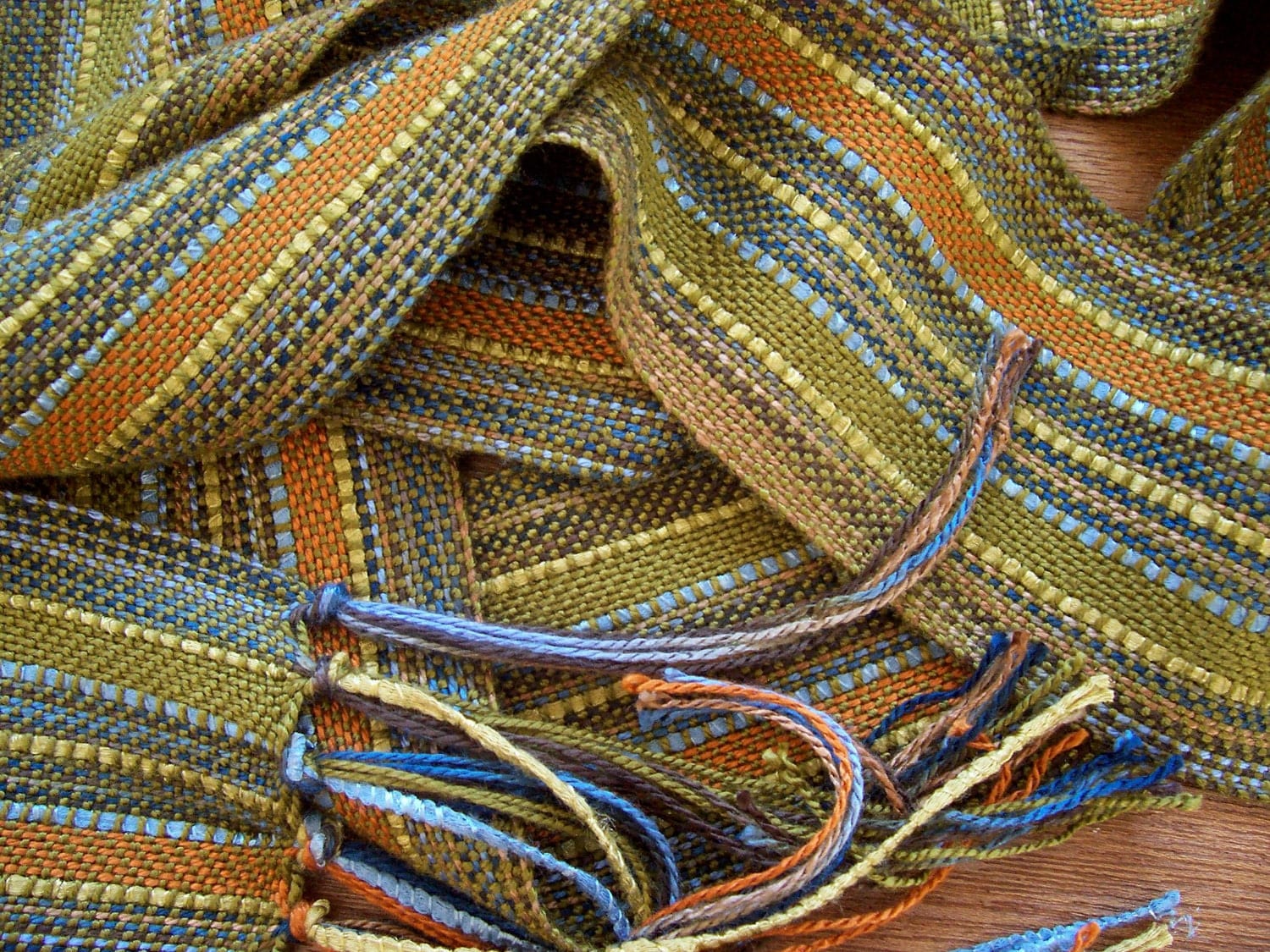 ~ beautiful blend of olive, blues, curry orange, and earthy browns - a great little lariat scarf to wear with a tee shirt , sweater or dress! ~
JR: What/who encouraged you to take the big step to make your passion for handweaving and scarves as your career?
Karen: I pretty much took that leap on my own encouragement, I needed a change from graphic design. Nobody else said a word, (I think they all thought I was nuts). Now, my son is the one who keeps encouraging me. I think my grandmother would have encouraged me also, had she been around. She was extremely talented with fibers and pottery, always creating. She was full of kind words and lots of wisdom, I think she would have told me to "follow my heart".
~ Mary Poppins and Raggedy Ann made by Karen's grandmother, and the quilt in the background made by Karen's dear friend, Leah from Joystrings – things that are "dear to Karen's heart". ~
JR: How does your career as a handweaver affect your life now as compared to being a graphic designer?
Karen: My career as a handweaver is much less stressful than working in the corporate world. Now I work on pieces from start to finish, with my own vision, without all the "design by committee" I often experienced in graphic design. I like the idea of my work sticking around for awhile. Something to make a person feel good, or special, that might get passed down to their kids; where in print media, the work tends to end up in the recycle bin pretty quickly. Now I don't feel like I am contributing to much of the "visual pollution" in this world.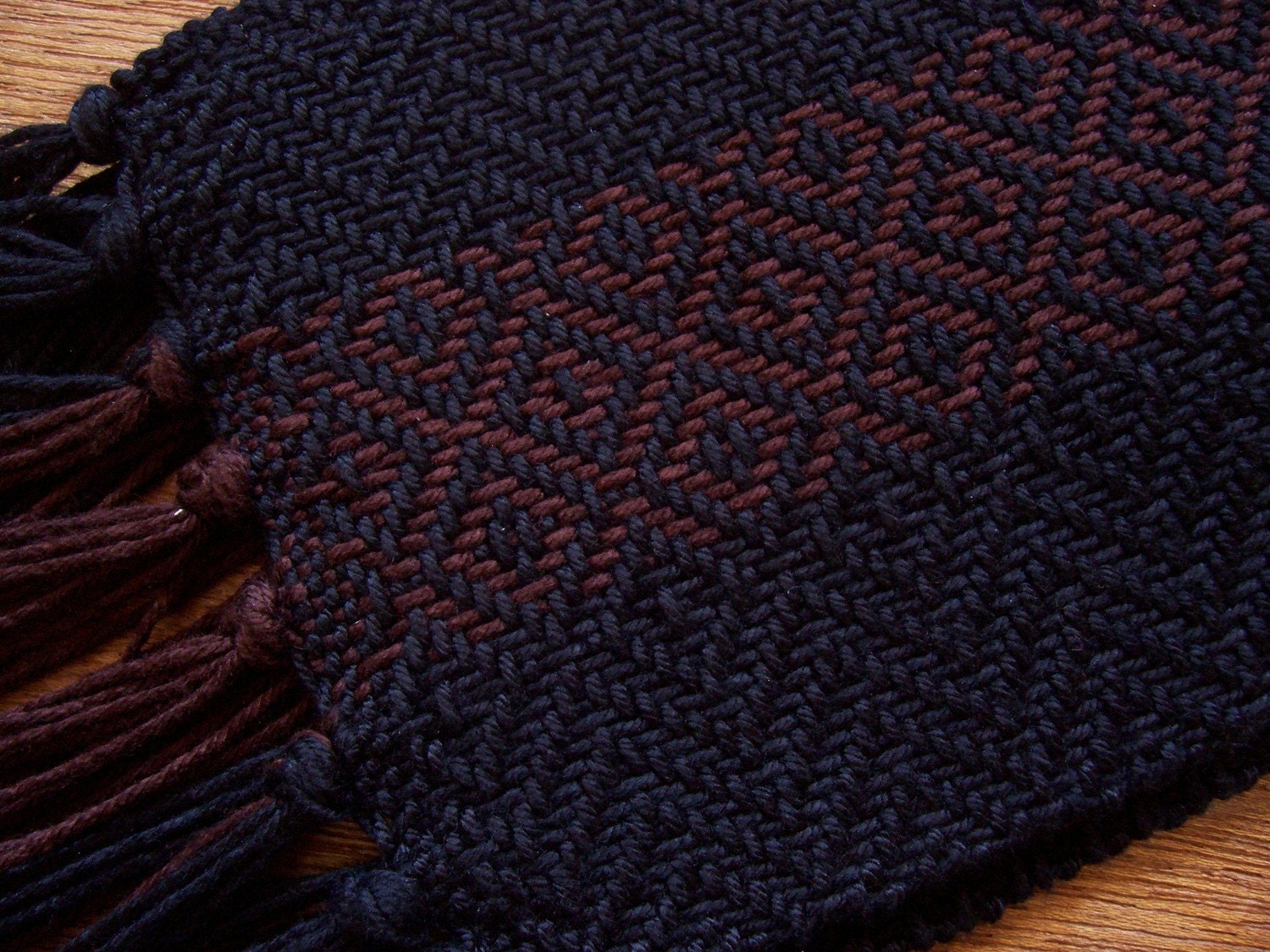 ~ a beautiful pattern of  black and brown bamboo fiber ~
JR: Your work clearly displays very good sense of color palette mixes that are vibrant and bold, do you have a fix method or go by inspiration to manifest them?
Karen: My color work is definitely instinctual, I have definite opinions on color whether it works or not. I like to create certain moods and feelings with color. When I was growing up, certain color combinations weren't worn together, such as purple and green; you were "made fun of". Can you imagine? Lucky for me, color now, is so widely accepted. The more color the better!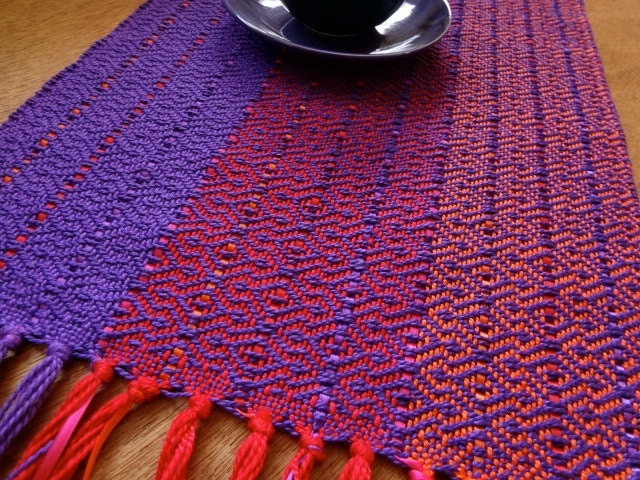 ~ vibrant purple, red and orange pearl cotton little mat you can place on your dining room table, coffee table, dresser, or any place else you want to dress up! ~
JR: Handweaving as with many other art forms, requires patience and time, how long do you usually take to handweave a long scarf?
Karen: Of course there are a lot of variables to the time it takes to weave a scarf: threads per inch, size, pattern complexity, etc. All are factors when setting up of the loom, and actual weave time. I've been weaving for a very long time, and have gotten pretty speedy at it. Although I do weave four scarves on the same warp on my loom, that does help with overall set-up time, I don't have to set up the loom for every scarf. A very basic small scarf takes between 2 to 3 hours from start to finish.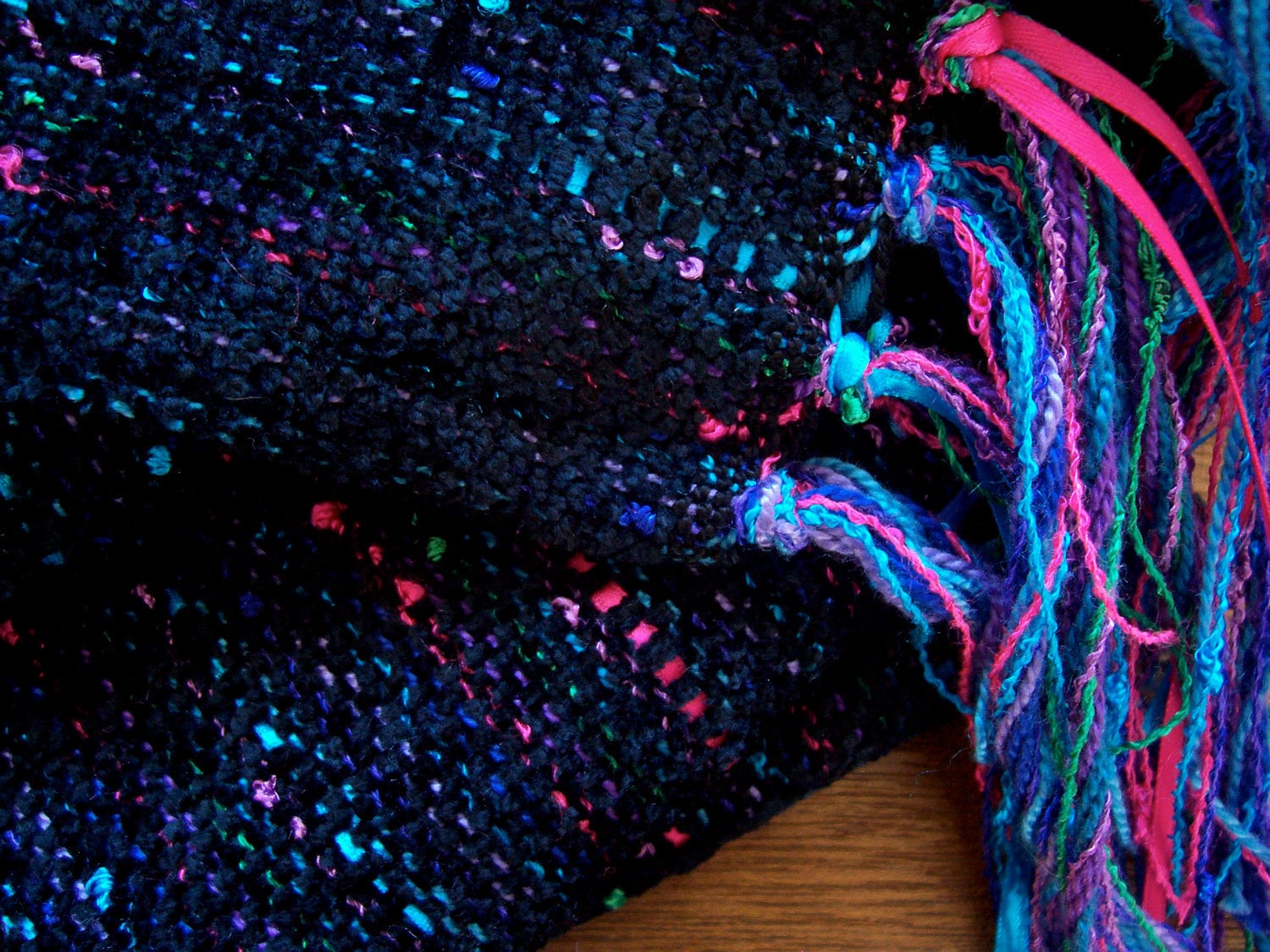 ~ wrap rich with jewel tones; blues, amethyst, pinks and ribbons running through the magnificent black overall tone ~
JR: Describe to us your creative process?
Karen: My creative process usually involves my yarn stash. I dive into my cupboards, baskets and closet and pull out an assortment of cones and skeins. I arrange them on my desk and "play with them" adding and subtracting colors and textures as the day goes on. Sometimes I leave them for a day or two and while I'm weaving another project, think about them, and decide what to turn them into. Sometimes I sketch ideas in my notebook, but it's more productive for me to think three dimensionally with the actual fibers.
~ Karen's cozy workspace and trusty loom (which I covet!) ~
JR: Hard work versus Talent, whats your take?
Karen: I think it's good to have both talent and hard work when creating something. You can't get very far on talent alone without hard work; you must nurture an idea, and push it to the limits. And hard work is not enough by itself either. To push a piece past the ordinary, you definitely need some talent.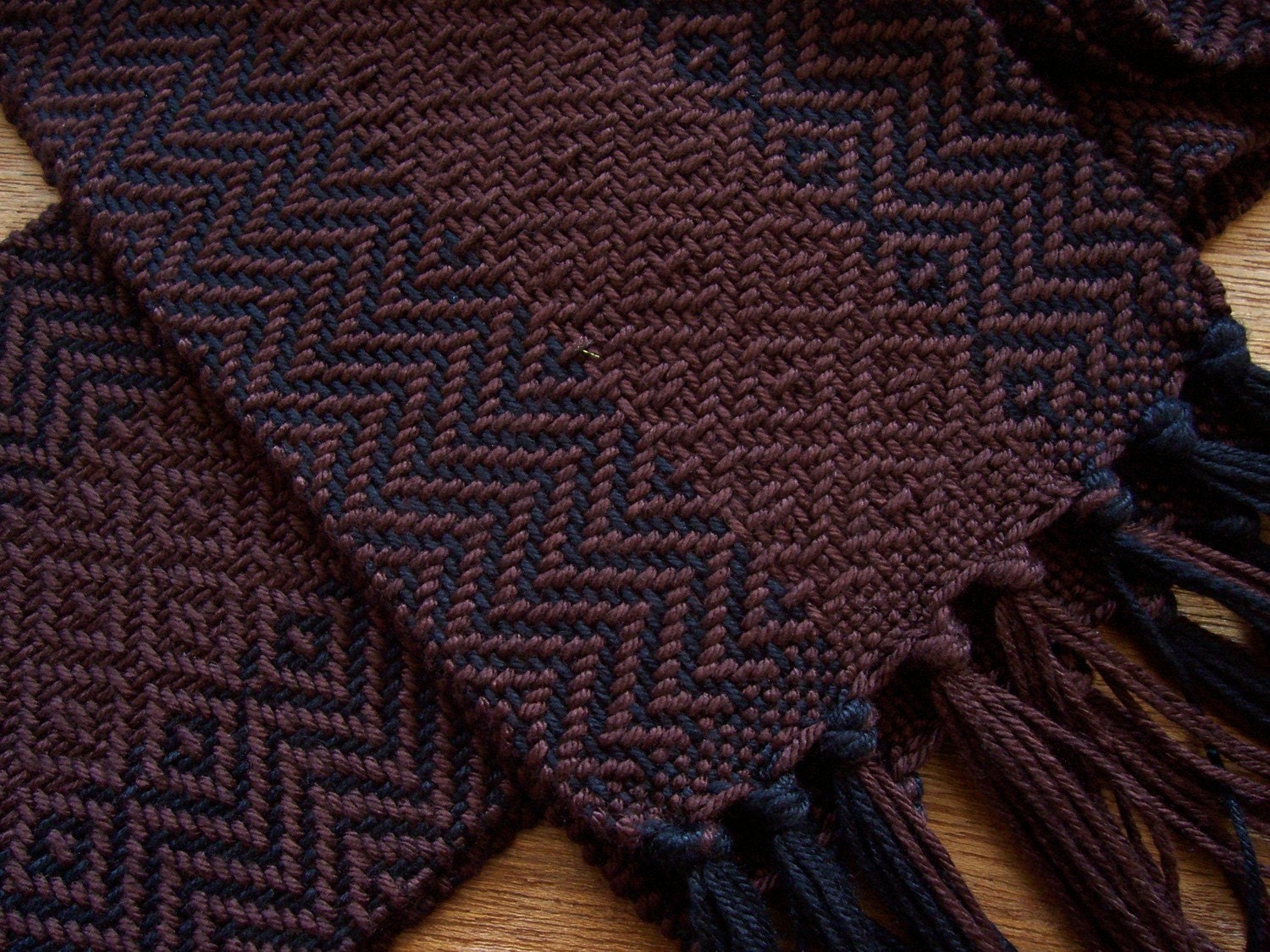 ~ brown and black bamboo fiber of beautiful pattern running the entire scarf ~
JR: How would a perfect day be for you?
Karen: I would love to start everyday by sleeping in late, (I am so not a morning person) and working on my art late. . . add that to my usual day events . . . that would be a perfect day.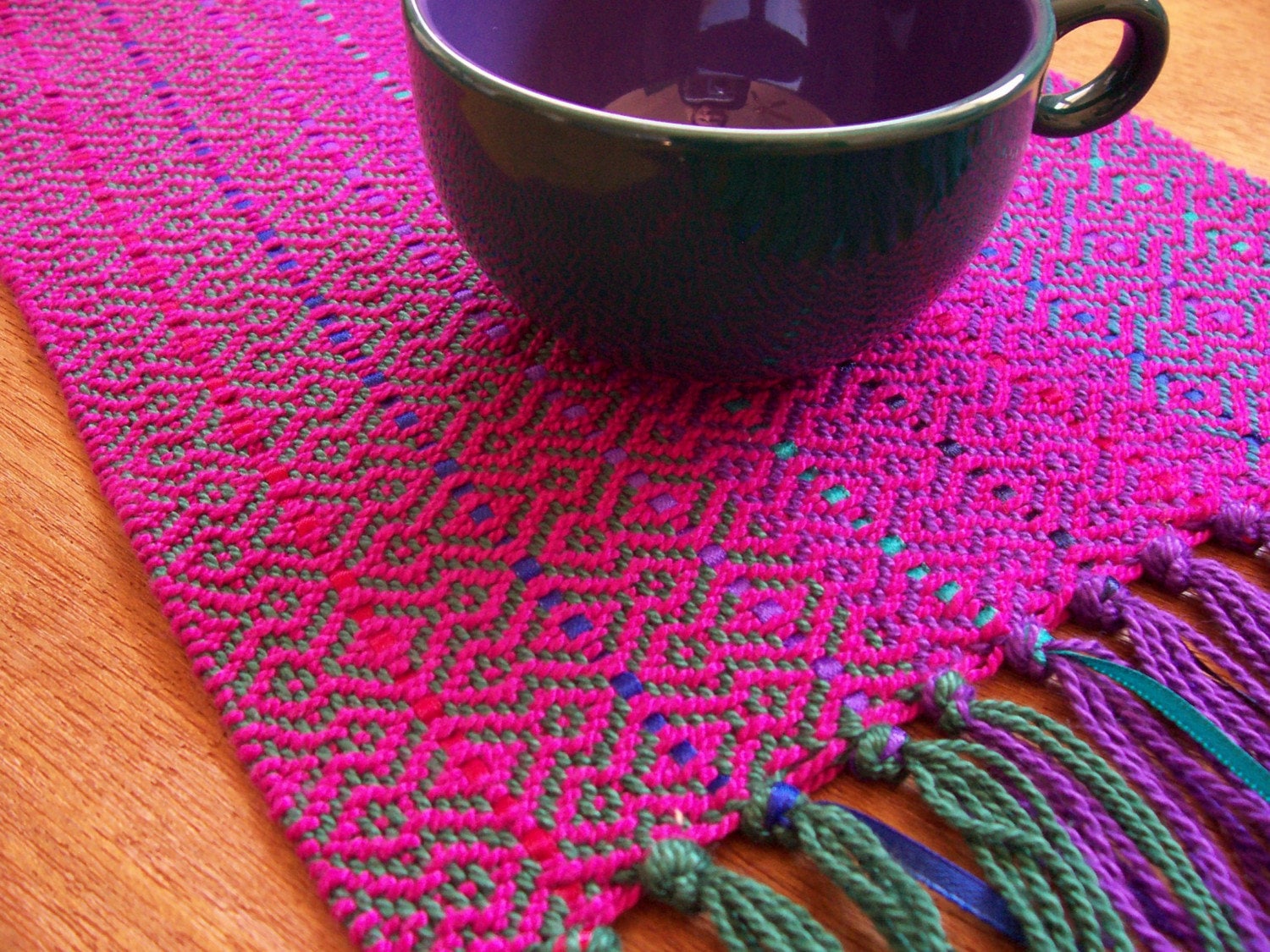 ~ run your surfaces with vibrant magenta pink pearl cotton, on a background of sapphire blue, emerald, amethyst and ribbons ~
JR: If you were given one golden wish, a boon from God, what would it be?
Karen: I would use my golden wish on a "cure for cancer".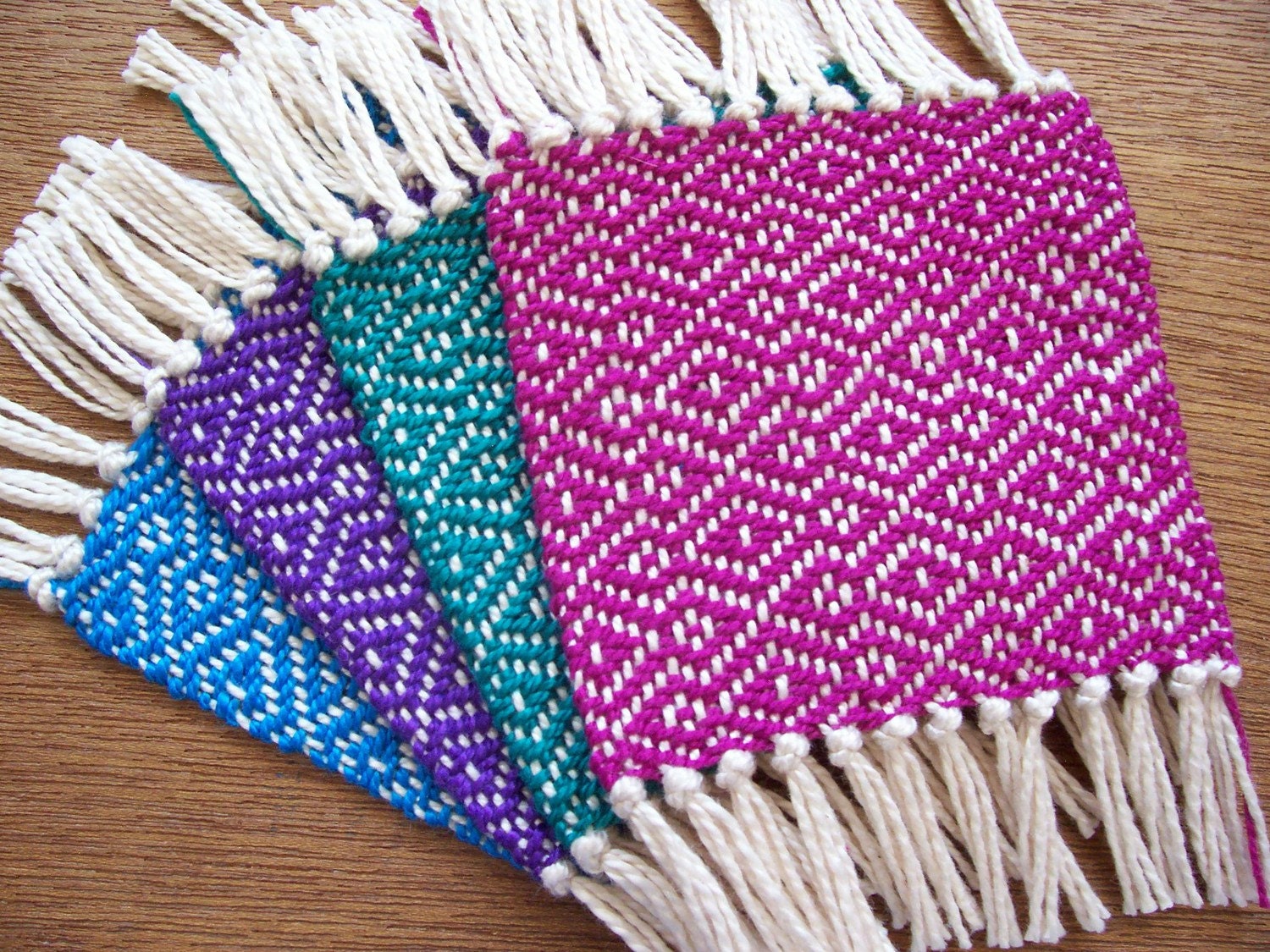 ~ these vibrant coasters make cozy ethnic accents to any home! ~
❤ 
VISIT 
❤
Be awed by the rich colors and textures of Karen's creations – Masonke – handwoven scarves!
❤ 
GIVEAWAY! 
❤
Here's a fantastic chance (for 2 weeks only!) to win an absolutely beautiful handwoven peacock blue scarf
Enter yourself now!!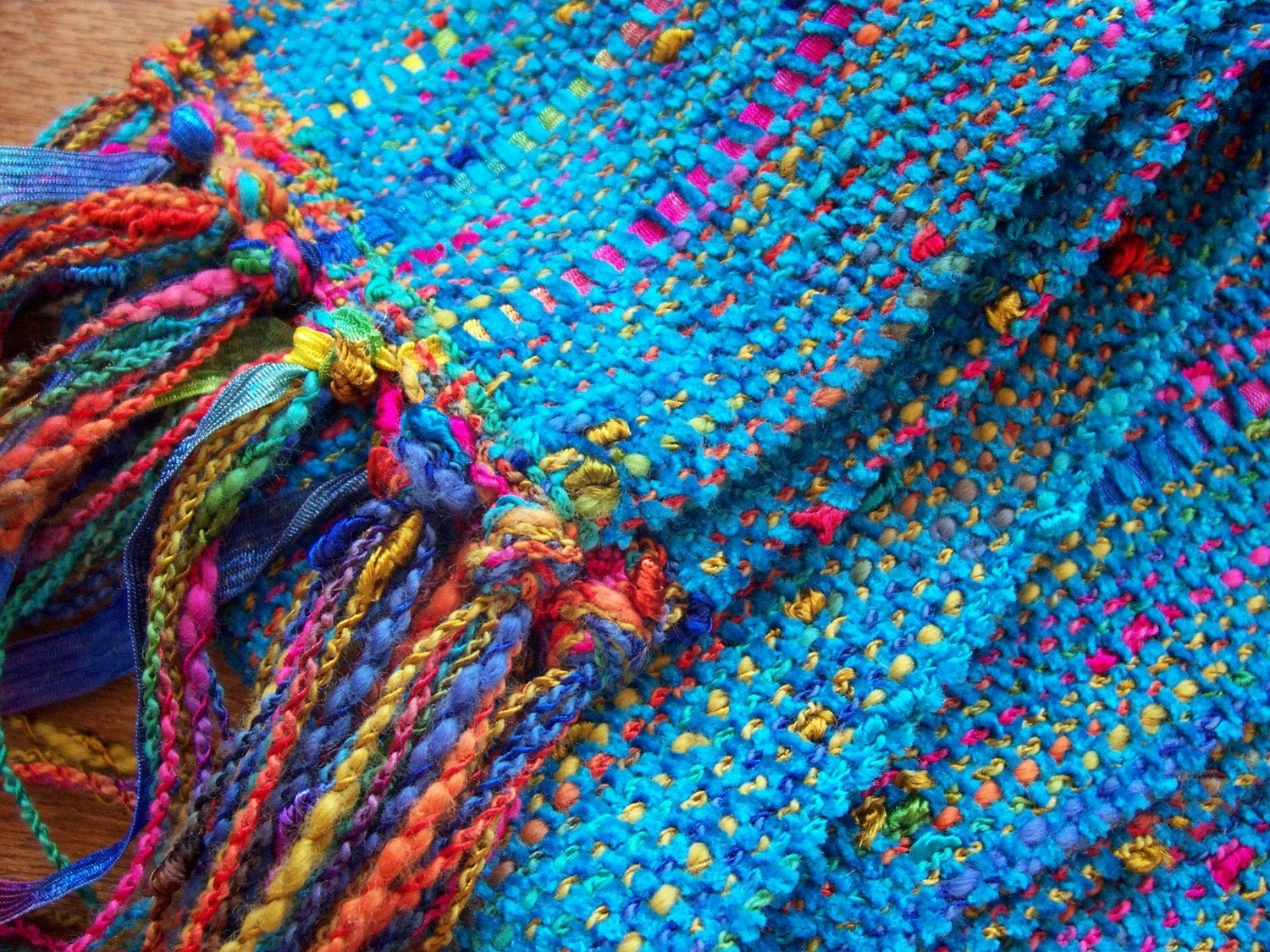 ❤