>> THIS GIVEAWAY HAS ENDED <<
>>> WINNER ANNOUNCED ON 30 MAR 2012 <<
>> CHECK OUT WHO WON! <<
To compensate for the lack of February's giveaway, we will be conducting a couple of giveaways for Ms March

This is the FOURTH March Giveaway from the masterful weaver -
Karen of Masonke!
❤ ❤ ❤ 
THE GIVEAWAY ❤ ❤ ❤
Open to worldwide and shipping inclusive.
This giveaway is valued at $52.
The lucky winner gets to win this beautiful long peacock blue scarf, however Karen would be most happy to exchange it for another color of your choice that is in Karen's "long skinny scarves" shop.
❤ ❤ ❤ 
ABOUT the GIVEAWAY ❤ ❤ ❤
This scarf will brighten even the dreariest of winter days. Handwoven with a colorful cotton/rayon, ribbons, and a silky soft rayon chenille.
The finished piece is long enough to wear in a variety of styles, and feels super soft against your neck.
Approximately 4.5″x 67″ plus fringe. Easy to hand wash and hang to dry.
>> Click on the image to visit their product webpage for more photos and details. <<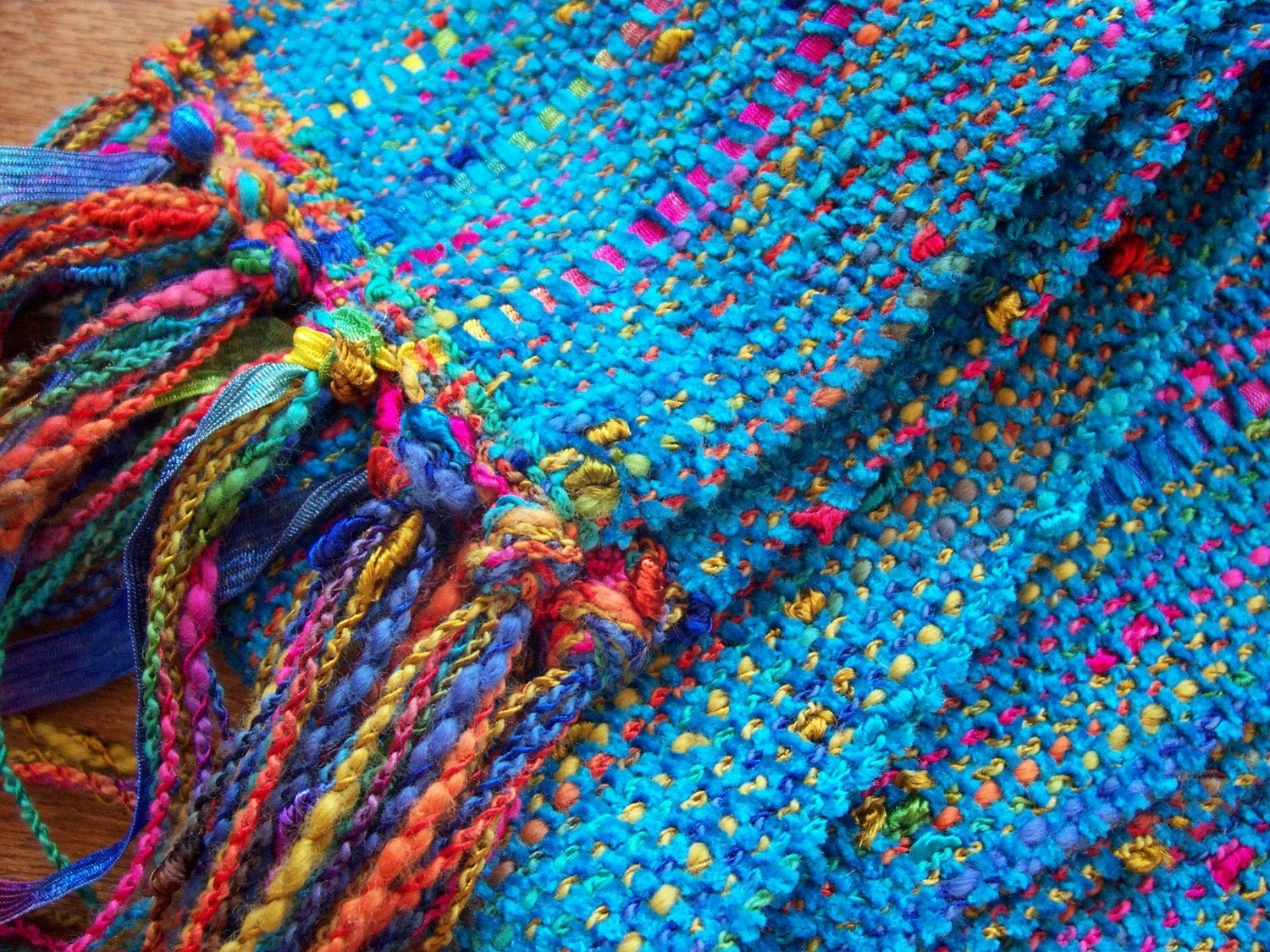 ❤ ❤ ❤ RULES ❤ ❤ ❤
(note: leave a separate comment for each entry to increase your chances!)
To stand a chance to win, you MUST:
1. Be a follower of our blog
2. Visit Karen's shop and tell us which is your favorite item
AND do at least ANY 2 of the following:
1. Tweet about this giveaway (click here for easy retweet)
2. Blog about this giveaway on your blog and link back to our blog (leave your blog link behind)
3. Share this giveaway on your Facebook (leave your FB link behind)
4. Follow us on Twitter
5. Read 'Coffee with Karen' by answering this – What does Karen's creative process usually involve?
6. Add our badge on your blog (badge located at the bottom of the page)
7. Do a good deed – use your voice to sign a petition to help save the abandoned Fukushima animals
❤ ❤ ❤ DURATION ❤ ❤ ❤
This giveaway will run for 2-weeks from 15 Mar to 29 Mar 2012.
The winner will be chosen by random.org on 30 Mar 2012 and will be announced immediately and contacted via email.
If the winner cannot be contacted within 48 hours, another winner will be chosen by random.org.
~ ~ ~ ~ ~ ~ ~ ~ ~ ~ ~ ~ ~ ~ ~ ~ ~ ~ ~ ~ ~ ~ ~ ~ ~ ~ ~ ~ ~ ~ ~ ~ ~ ~ ~ ~
Alrighty then! We hope you love the item put up for giveaway.
If you love what you see here, be awed even more at Karen's shop!
We wish you all good luck and have fun while at it, thank YOU!
XO ~ JR
P.S. Don't forget to check out March Giveaway #1 and #3 that is still running!
❤