I've noticed its been quite a moody Monday for most people I see out there, a psychological Monday blues thing or is it just too much partying over the weekend?

I do hope you lovelies reading this will have a good Monday or had a good Monday start to the week
I did not get my usual 7 hours sleep, I lost 2.5 hours of sleep because both my kitties were crying scared of the howling wind and my dearest Richard had Major Snore visiting… yes, I woke up grouchy but I fought that demon to get my equilibrium on track before my fuse fused ~ begone you Monday demons, take that, HAH!
Moving forward and continuing my feature of the simple white shirt for the week, let's give the white shirt ensemble more oomph to rev up the week!
XO JR ❤
Let's do away the sleeves and make way for more movement!
White twist-front shirt from Banana Republic, $59.50 mid-priced for both the working lady and student

• • • •
Draw attention to your collarbone with baby love knots by JeannieRichard, $50 (now on 25% sale till May 31)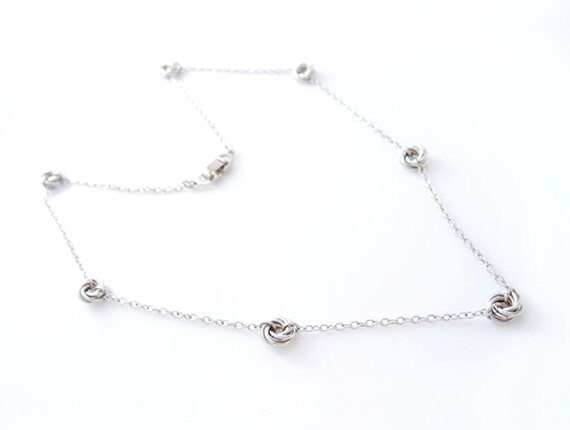 • • • •
Enhance the theme with these classic, subtle and delicate  Love Knot Earrings by JeannieRichard, $35 (now on 25% sale till May 31) ~ a staple for every true lady's jewelry
box

• • • •
Distract them with your flowery curves ~ Floral Pencil Skirt by Calvin Klein, $80 for the working lady

• • • •
Add dash of girlie charm with a denim circle flare skirt, $32 for the student
• • • •
Make a statement with a chunky love knot bracelet by JeannieRichard, $65

• • • •
Something affordable and vibrant for the working lady - Kelly & Katie Ellison Croc Chain Handle Tote, $40

• • • •
And something for the student girl to dump all her books and what not – Faux leather tote from Forever 21, $25

• • • •
Va-va-voom Biel wedge stilettos by Jimmy Choo, $595 for the working lady to show that kick-ass gait with her super-charged brainwork

• • • •
And some heartbreaker ballet flats for the student to show her fellow girlfriends its done –  from ModCloth, $40